MBA in France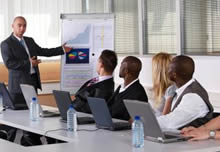 When moving to France and seeking out job opportunities it's important to know a few facts to help make an easy transition to
the French business culture
. Outlined below are important things to know; for instance, speaking French,
writing resumes
and cover letters, filling out job applications, taking college courses, and just being able to maneuver around the French business culture.
MBA Courses Abroad
An international school on your CV or resumé will stand out and brand you as a job candidate who has been exposed to diverse multicultural ideas and global issues. At the MBACourses website, you will find you are able to search for MBA programs around the globe. You can search by school, by program type and by country. If you want to work in a particular country, you will employers are more likely to hire from their country's MBA programs.
MBA courses
If you are unsure about this path and the benefits and value in study for an MBA, there are reasons you may not have considered. Visit the website Reasons for getting an MBA and you will be excited to learn how marketable this degree is in the global economy we are living in. This value will only increase in the future. Getting an MBA will broaden your scope of employment opportunities. These opportunities will be higher paying ones that can advance your career farther and faster.
The knowledge obtained in these MBA programs will benefit your life personally and professionally. Your professors and fellow students will become part of your network of mentors and colleagues to whom you will turn for assistance as they will also turn to you. They will be sources of knowledge and wisdom and provide you with business referrals as you launch your career.
MBA in France
Everything you need to know to begin getting that French MBA can be found by starting here at MBA in France. You will find gateways to practical information about traveling and living in France such as obtaining visas, learning the French language, making international calls, healthcare in France, accommodations in France, transportation and relocation and the French media.
You will also find convenient links to academic and business information such as
French MBA programs
, French companies, jobs in France, the French economy and French money and finance. If you are interested in a French language career and want to pursue a specific French MBA, this site is right for you. To study for a French MBA is to begin an advantageous step in your academic and business career.
French MBA
If you already have
French language knowledge
, it would be an asset to your career to enhance your
French language skills
and study for a French MBA. It is a distinction that will give you a firm foundation in the world of business.
To be bilingual will allow you to compete successfully with most European and Asian business people. France's economy is fourth in the world. It is the second largest exporter of services in the world. Study for a French MBA and you will thrive in the varied geography and the outstanding transportation to explore it.
The country is safe and rich in cultural activities such as theater, cinemas, museums, libraries and art galleries. You will benefit from the close proximity to other European countries whose own MBA components will likely be added to the
French MBA program
. You may also have the opportunity for an internship in another European neighbor. Study for an MBA in France and step into your future!
© 2007-2022 - All Rights Reserved