À une Madone - Charles Baudelaire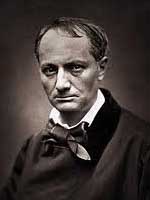 Charles Pierre Baudelaire was born in Paris at April 9 of 1821; he was a poet, an art critic and a French translator. He is known as
the cursed poet
because he had a bohemian lifestyle and excesses and the vision about the evil that his work has. He was the poet with the most impact in the
French Symbolism
.
In 1845, his first work, called
El Salón
, had the attention of his contemporaries. He participated in the revolution of 1848 and published Las Flores. People considered
Las Flores
as offenses to public morals, and Charles was prosecuted for that reason; he also had a fine of 300 francs but he continued with it. He died in Paris at August 31 of 1867 and buried in the cemetery of
Montparnasse
.
Poems in french
À une Madone

Je veux bâtir pour toi, Madone, ma maîtresse,
Un autel souterrain au fond de ma détresse,
Et creuser dans le coin le plus noir de mon coeur,
Loin du désir mondain et du regard moqueur,
Une niche, d'azur et d'or tout émaillée,
Où tu te dresseras, Statue émerveillée.
Avec mes Vers polis, treillis d'un pur métal
Savamment constellé de rimes de cristal,
Je ferai pour ta tête une énorme Couronne;
Et dans ma Jalousie, ô mortelle Madone,
Je saurai te tailler un Manteau, de façon
Barbare, roide et lourd, et doublé de soupçon,
Qui, comme une guérite, enfermera tes charmes;
Non de Perles brodé, mais de toutes mes Larmes!
Ta Robe, ce será mon Désir, frémissant,
Onduleux, mon Désir qui monte et qui descend,
Aux pointes se balance, aux vallons se repose,
Et revêt d'un baiser tout ton corps blanc et rose
Je te ferai de mon Respect de beaux Souliers
De satin, par tes pieds divins humiliés,
Qui, les emprisonnant dans une molle étreinte,
Comme un moule fidèle en garderont l'empreinte.
Si je ne puis, malgré tout mon art diligent,
Pour Marchepied tailler une Lune d'argent,
Je mettrai le Serpent qui me mord les entrailles
Sous tes talons, afin que tu foules et railles,
Reine victorieuse et féconde en rachats,
Ce monstre tout gonflé de haine et de crachats.
Tu verras mes Pensers, rangés comme les Cierges
Devant l'autel fleuri de la Reine des Vierges,
Etoilant de reflets le plafond peint en bleu,
Te regarder toujours avec des yeux de feu;
Et comme tout en moi te chérit et t'admire,
Tout se fera Benjoin, Encens, Oliban, Myrrhe,
Et sans cesse vers toi, sommet blanc et neigeux,
En Vapeurs montera mon Esprit orageux.

Enfin, pour compléter ton rôle de Marie,
Et pour mêler l'amour avec la barbarie,
Volupté noire! des sept Péchés capitaux,
Bourreau plein de remords, je ferai sept Couteaux
Bien affilés, et, comme un jongleur insensible,
Prenant le plus profond de ton amour pour cible,
Je les planterai tous dans ton Coeur pantelant,
Dans ton Coeur sanglotant, dans ton Coeur ruisselant!



Charles Baudelaire

At a Madonna

For you I will build, Madonna, my lady,
dug an underground altar in my misery,
and I will hollow the most black bend of my breast,
beyond the worldly desires and teasing,
a perfect niche azure and gold enamel,
where he lived, dazzling statue.
With my polished verses, metal grids,
studded with rhymes in art glass
I will do to your face an immense crown,
and my constant zeal, Madonna oh mortal,
a mantle I'll weave, the barbarous manner,
heavy, crushing, bending of suspicion,
shelter built to enclose your charm,
Not embroidered with pearls, be my own tears!
Your robe, I want mine, tremulous, fluttering,
intense desire of mine, who rises and descending,
pendulous in the mountains, valleys restful,
your body clothed in white and pink kisses.
From my respect I'll warp footwear,
and I'll silk for you to humiliate,
imprisoned imprisonment, oppression of softness,
as a template to preserve your mark.
And if I could not express with my art
make a stool carved in silvery moon,
I will make my guts Snake bites
under your feet and laughing and crush,
O Queen victorious, fruitful redemptive
fattening monster of rage and spitting.
You see my thoughts in order, as Candles
the altar blossomed Queen of Virgins,
cosmic dome reflections of blue,
looking at you forever with his fiery eyes.
And everything in me loves you and wants you,
will be the All Incense, Benzoin, Myrrh, Frankincense,
and on and on you, snow, white top,
Steam will rise in my stormy Spirit.

Finally, to complete your role of Mary,
And to mix love with barbarism,
Voluptuous black! the seven deadly sins,
Bourreau remorseful, I'll seven knives
Sharp, and as a juggler insensitive
Taking the depth of your love for Target
I will plant all in there panting heart,
In your heart, sobbing, dripping in your Heart!



Charles Baudelaire
© 2007-2023 - All Rights Reserved