Prélude à l'Après-midi d'un Faune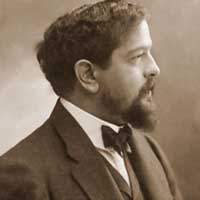 His full name was Claude-Achille Debussy. He was a French Compositor who was born in Saint-Germain-en-Laye on 22 August 1862. Claude Debussy was one of the most renowned musicians in the field of impressionist music. He was the eldest of five children, his father was Manuelle Debussy and his mother was Victorine Manoury.
From an early age, he already composed many beautiful works. Debussy was the winner of the "Prix de Rome" that was an important prize awarded to young composers, musician and singers. Claude Debussy telling "I am sure the Institute would not approve, for, naturally it regards the path which it ordains as the only right one. But there is no help for it! I am too enamored of my freedom, too fond of my own ideas." decided to leave the traditional music schools and continue their own way in the music.
Claude Debussy died in Paris on 25 March 1918 due to a painful disease of rectal cancer. Debussy composed many works, among which we can mention.
Suite Bergamasque.
Clair de Lune.
Arabescos Deux.
The three Nocturnes.
La Cathédrale Engloutie.
Pelléas et Mélisande.
Pour le Piano.
Prélude à l'Après-midi d'un faune.
Prélude à l'Après-midi d'un faune, is definitely one of the most important work of Debussy, that was inspired by the poem L'après-midi d'un faune by Stéphane Mallarmé. This amazing masterpiece was first perfumed in Paris on 22, 1894. Prélude à l'après-midi d'un faune has a duration of ten minutes approximately and it was used in many plays, ballet specially.
French Music Videos
© 2007-2023 - All Rights Reserved