PRONOUNCING THE LETTER E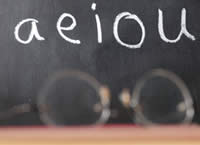 This ubiquitous letter can be pronounced in several different ways.
LETTER
SOUND
AS IN
WORD
NOTES

---

e
e
let
cerveau
Also pronounced as 'a' in a few words, eg 'femme' and the ending '-emment'
e
uh
about
le
see below
e
come
chaise
usually silent - see bellow
ê
e
set
forêt
Generally, When ê comes in a syllable before a é sound, it changes to that sound
è
e
set
sèche
é
ay
say
blè

---
é - a single sound between English 'ee' and 'e'.
Note:
Unaccented e is silent (a) when final (generally) and (b) in the second-last syllable after a single consonant. It is pronounced like 'a' in 'about' (a) in monosyllables (eg de, le), (b) in the second-last syllable after two or more consonant sounds, and (c) when final after two or more consonants.
© 2007-2023 - All Rights Reserved